In the era of digitization and ubiquitous screens, places for active recreation for young people are becoming particularly important. A playground for teenagers is not just a space for play, but also a place where young people can develop their physical, social, and emotional skills. Therefore, it's worth paying attention to the variety of devices that can meet the diverse needs of this dynamic age group. A playground for teenagers should not just be a collection of random attractions, but a well-thought-out space that promotes integration and diversity. It's essential that everyone can find something for themselves there, regardless of their interests or physical abilities. That's why, when planning such a facility, it's worth focusing on creating different activity zones that will serve not only for play but also for integration. Additionally, we must not forget to adapt the playground to the needs of people with disabilities, allowing everyone to join in the fun and outdoor activity.
Linarium: A New Dimension of Play for Teenagers
Linarium are devices that perfectly fit the concept of a diverse playground for teenagers. These innovative rope structures not only guarantee excellent fun but also provide a great form of physical activity. Moreover, linarias are designed so that many people can use them simultaneously, naturally encouraging interaction and integration. Young people have the opportunity for collective fun, competition, and also making new acquaintances, which is crucial at their age. Linaria is therefore not just a playground attraction but also a tool for building relationships and supporting healthy physical development.
Check out our wide range of rope structures, available here.
Street Workout Zones: A Place of Activity and Integration on the Playground for Teenagers
Street workout zones are an integral part of every modern playground for teenagers. These specially designed spaces offer a wide range of exercise equipment that promotes a healthy lifestyle through physical activity. Calisthenics not only shapes the silhouette but also teaches discipline and determination, helping young people build habits that will serve them for life. Moreover, street workout zones become real community hubs, gathering enthusiasts of various forms of physical activity. They foster integration and community building, becoming a place where you can not only train but also make new acquaintances and spend time productively. Thanks to the variety of available devices, everyone, regardless of their level of advancement, can find something for themselves. Both beginners and more experienced users can adjust the training to their individual needs, making these zones attractive to a wide range of people. We encourage you to familiarize yourself with our rich offer of street workout zones, where everyone can find the perfect solution for themselves. Discover the possibilities we offer and build a place that will promote the health and integration of young people.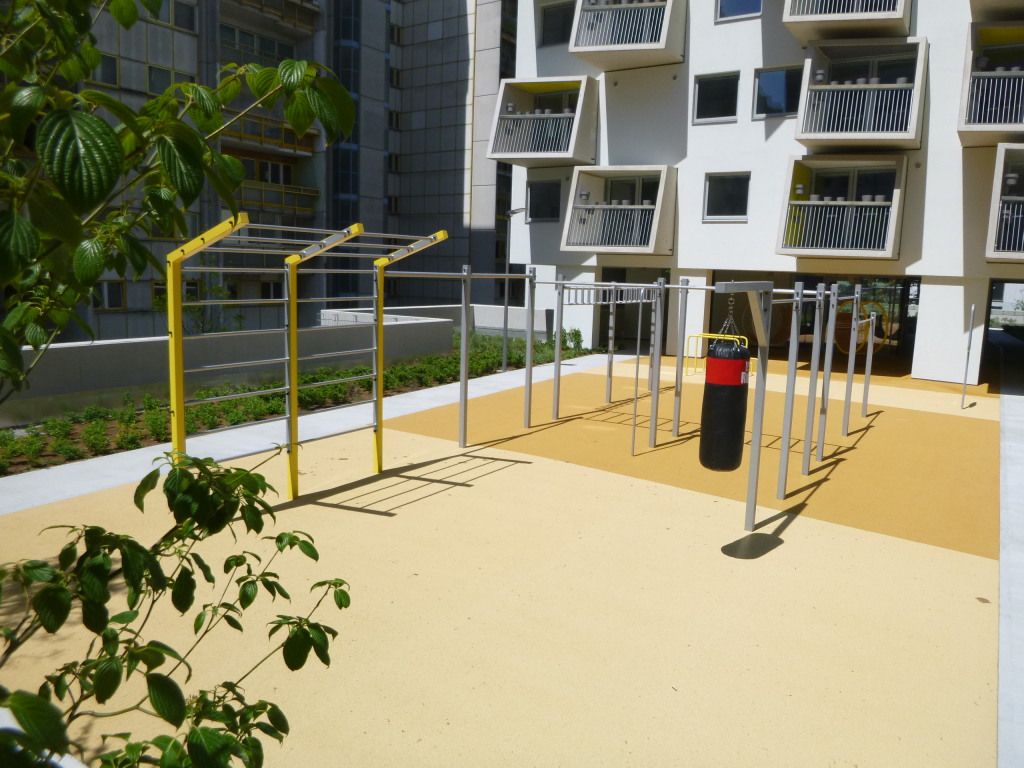 We invite you to check out Street Workout offer here.
 LIMAKO Eskalo: A Space Full of Adventures for Every Teenager
LIMAKO Eskalo playsets are a real hit that cannot be missing on a modern playground for teenagers. These unique devices have been designed with older children and teenagers in mind, offering them not only great fun but also the opportunity to spend time actively outdoors. What distinguishes these sets is their unique design, which resembles a snail in shape, adding not only aesthetics but also functionality to the entire structure. As a result, children and young people have various play and exercise elements at their disposal, such as climbing walls, ladders, or climbing rings, which stimulate motor development and movement coordination. These sets are made of high-quality stainless steel, ensuring their safety and durability for a long time. We invite you to discover the full offer of LIMAKO Eskalo playsets, which will surely delight every young explorer. Let every day on the playground become an unforgettable adventure, full of joy, smiles, and physical activity.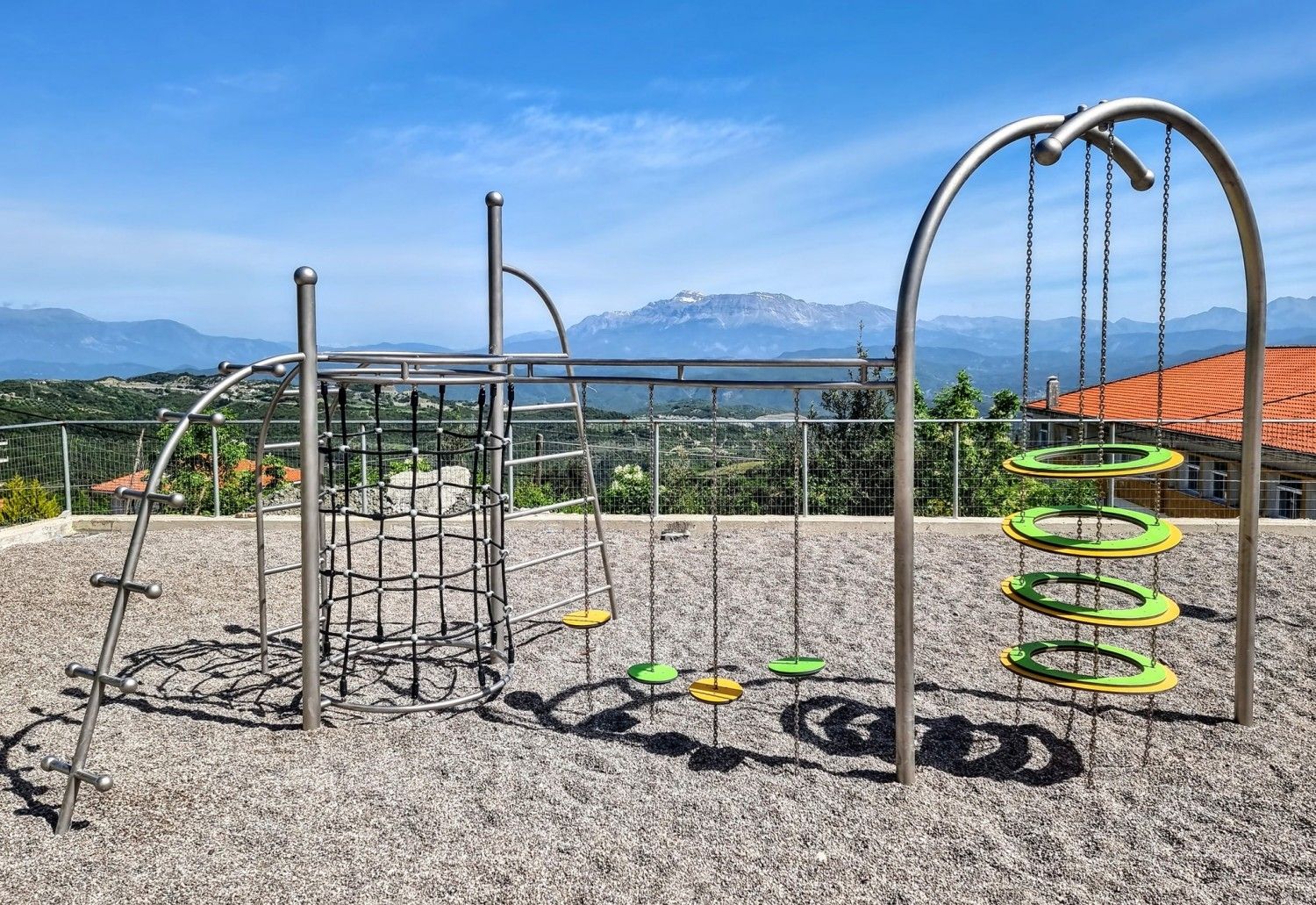 Check out our LIMAKO offer here.
Salto Trampolines: The Joy of Jumping on the Playground for Teenagers
Ground trampolines are an attraction that will surely appeal not only to children but also to teenagers - because who doesn't love to jump? Our SALTO trampolines are a perfect addition to any playground for young people. One of their biggest advantages is the ability to freely connect them, creating various configurations, for example, in the shape of hopscotch boards or serpentine. Such diversity allows for endless fun and creates space for challenges and group play. Moreover, these trampolines have been designed with accessibility in mind for everyone, including wheelchair users - thanks to specially designed entrances, everyone can experience the joy of using trampolines.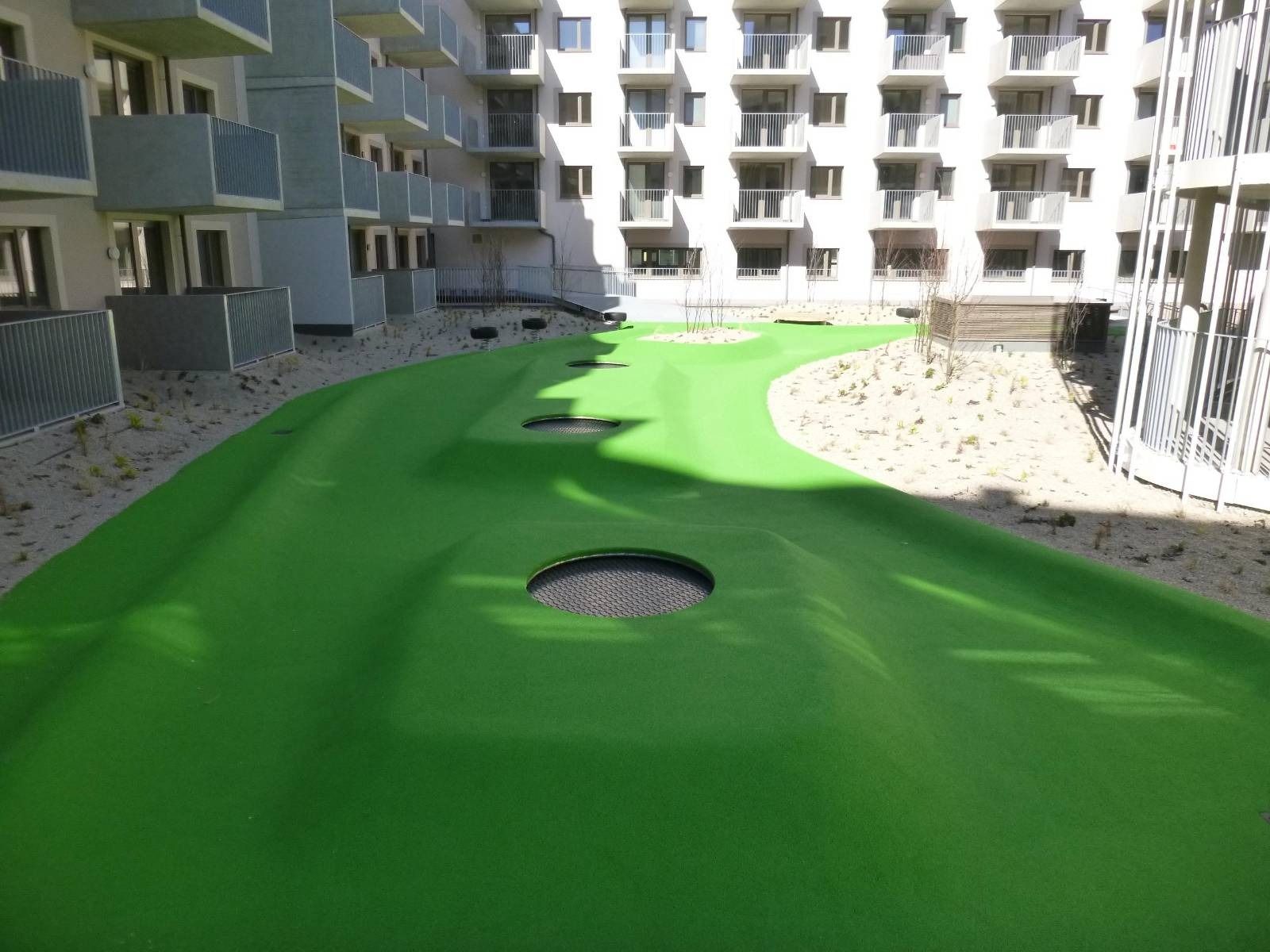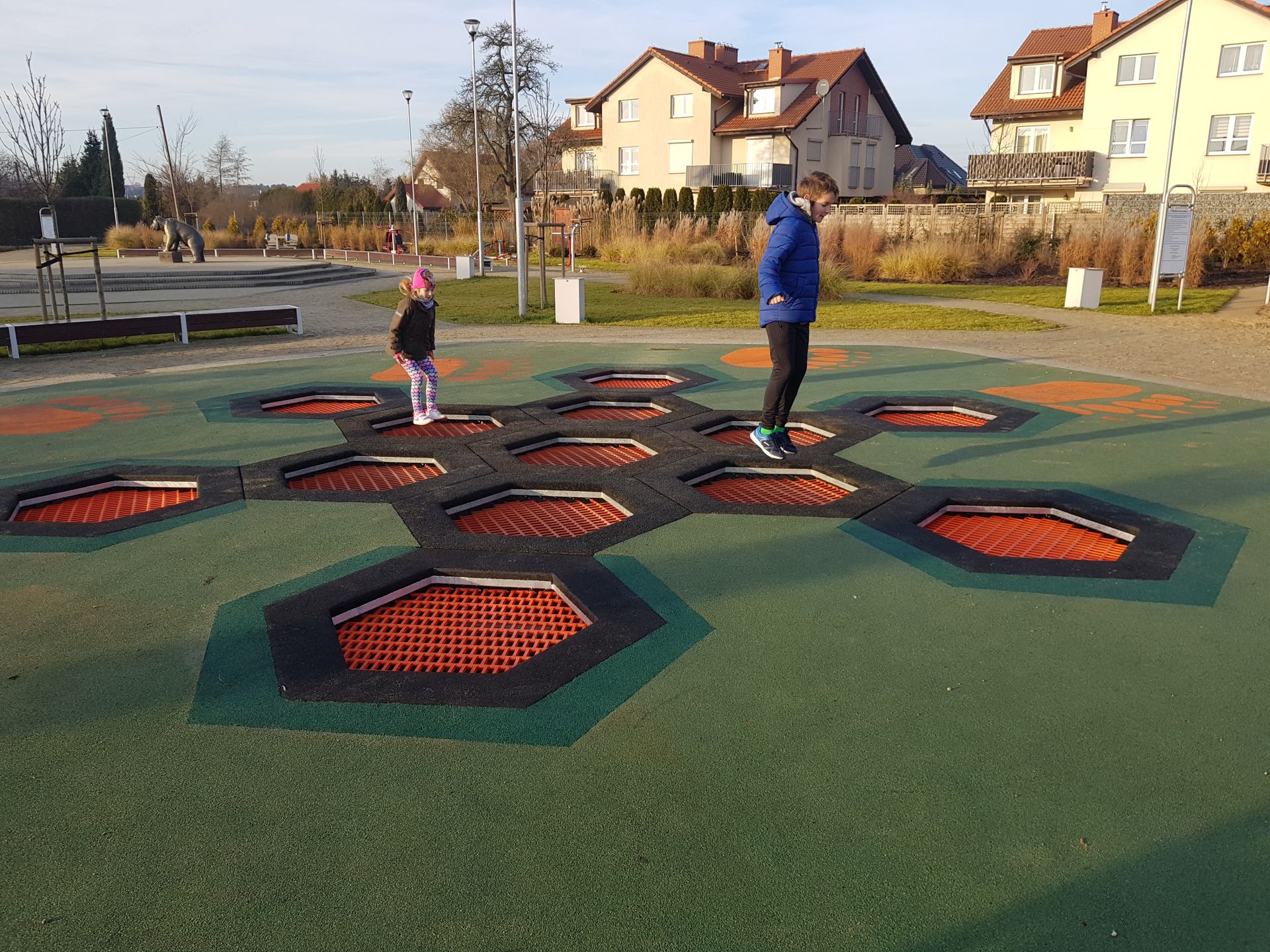 Find out more about our Salto trampolines here.
Sports Arenas: A Place for Team Play and Competition on the Playground for Teenagers
When planning a playground for teenagers, it's worth paying attention to sports arenas, which are extremely popular among young people. Team games, such as soccer or basketball, are not only a great form of physical activity but also an excellent way to integrate and build relationships. Our sports arenas have been designed to make optimal use of space, allowing for the creation of a functional place to play even on limited terrain. An additional advantage is their modular construction, allowing for free connection of elements and creating various configurations tailored to individual needs and preferences. As a result, every playground can become a place where teenagers can actively and safely spend time, enjoying their favorite sports.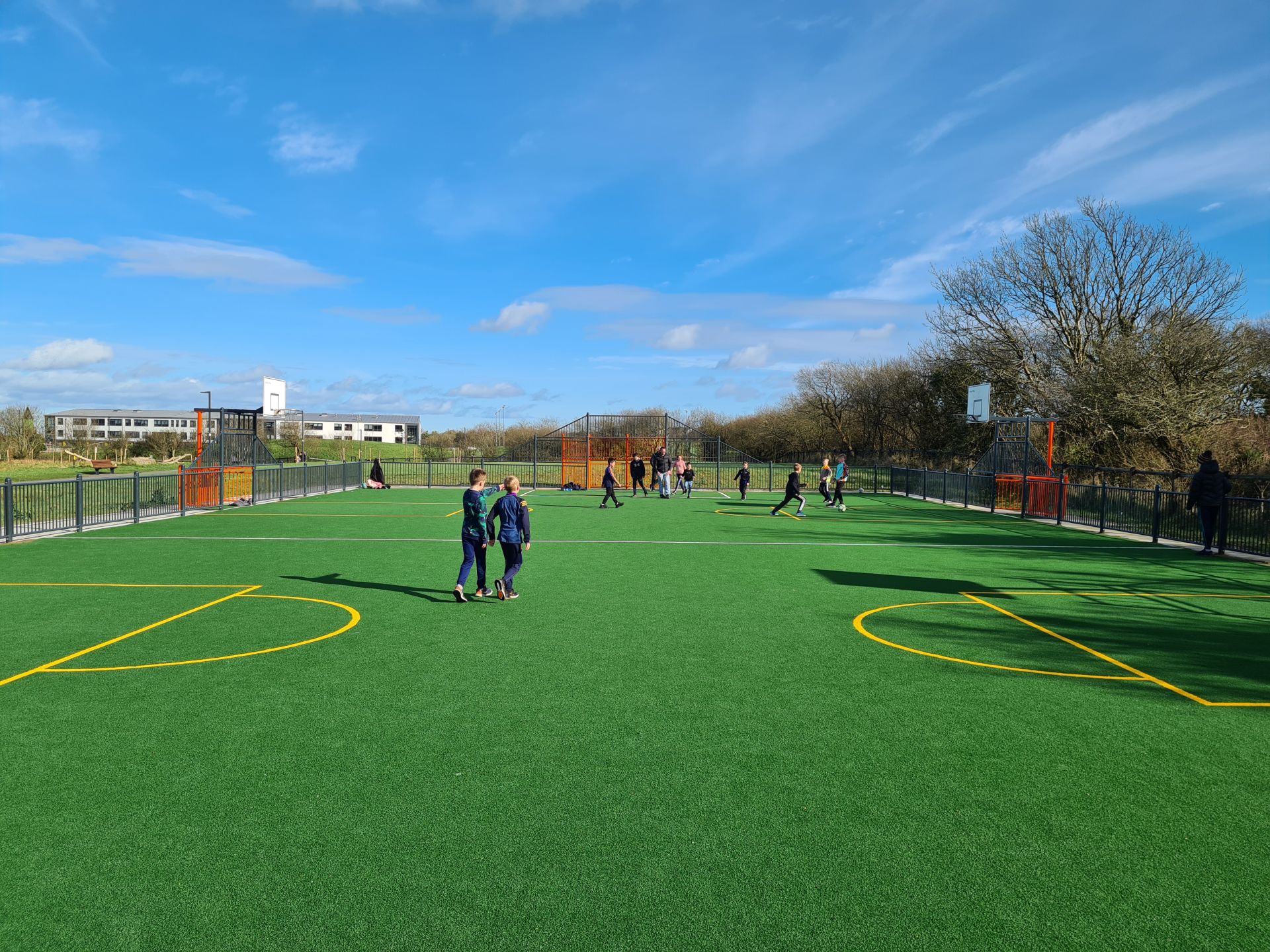 Find out more about our Sport ARENAS here.
Rest Zones: Comfort and Relaxation for Teenagers
In addition to various attractions and physical activity devices, an essential element of every playground is zones designated for rest. These places should be equipped with comfortable benches and tables, allowing young people to relax and eat meals outdoors. Additionally, it's worth considering the installation of water fountains, which will not only be practical but also an ecological solution, promoting the habit of drinking water. Such zones also promote integration, becoming a place where teenagers can freely talk, share experiences, or simply rest after intense play or training. When planning such places, it's essential to focus on aesthetics and functionality to create a friendly and inviting space.
Comprehensive Playground for Teenagers
In conclusion, a playground for teenagers is a place that should combine a variety of attractions with the possibility of active time spending and places for rest and relaxation. Thanks to thoughtful planning and the use of modern solutions, we can create a space that will promote the healthy physical, emotional, and social development of young people and will also be a place of integration and building lasting relationships. Whether it's linarias, workout zones, playsets, or sports arenas - each element has its place in creating the perfect playground for teenagers.